Rice, one of sake brewing's most basic ingredients, is an incredibly useful product in all forms. Although we use only the starch portion (70% in traditional junmai sake and approximately 50% in daiginjo premium sake), there is virtually no waste. The portions that we mill away to brew sake are used as follows:
Rice Hull:
The thick outer covering of rice which is removed before the final milling process is collected and used for such purposes as:
Fertilizer
Building materials (to reduce humidity)
Stable bedding
Rice Bran:
The layer of protein under the rice hull, is used for a wide variety of products such products as:
Cereal
Baby food
Rice bran oil
High quality rice food products
Sake Kasu:
The solid rice material pressed from the liquid sake after fermentation, is protein rich and is used as the following:
Ingredient for making traditional Japanese picked vegetables

tsukemono

Amazake

, traditional Japanese winter and summer beverage
Livestock feed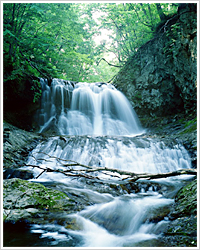 Although water is the number one ingredient for sake, water is also necessary for the production aspects of the brew. We strive to make sure that the water we return to the community is free from detergents and other agents harmful to the natural environment. We at Hokkan Sake Brewing regularly make analysis and work with the City of Tochigi and the Tochigi Prefectural Food Sanitation Association to meet the utmost in production standards and keep our precious part of the planet green.