All rice varieties are not equal in the case of sake brewing. Although it is theoretically possible to brew sake with any kind of rice, the resulting sake can differ significantly depending upon the variety and milling rate.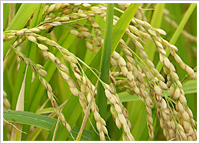 Nearly 100 years ago as interest in creating new types of premium sakes increased among sake brewers, the first research into creating a new kind of specialized sake rice (
sakamai
) began. The resulting success of the development of sakamai lies in the fact that the new varieties were developed to match local environmental conditions. Today, sakamai, which can now be produced in both traditional and non-traditional rice producing regions, holds an important role in brewing premium sake.
In general, the following characteristics are common in rice best suitable for brewing sake: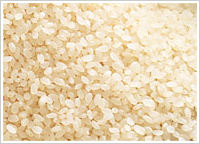 Large, supple kernel that does not break easily during the milling process
Outer layer hardens while the center portion remains soft during the steaming process
Easily used for making koji
Dissolves easily and facilitates the saccharification process in the yeast and moromi mixture
Contains little protein and fat
Absorbs water easily
At Hokkan Sake Brewing, we use some of the finest of these sakamai: Tochigisake 14, Yamadanishiki, Gohyakumangoku, Miyamanishiki, and Hanafubuki.
Tochigisake 14: This locally produced sakamai was developed to match Tochigi's natural environment. Widely produced throughout Tochigi Prefecture, this rice has an especially good harvest yield rate. Low in protein content, this rice is perfect for brewing elegantly light and fresh junmai sake types.
Yamadanishiki: First named in 1936, this sakamai is one of the oldest of the earliest sakamai which is still widely used today. A "king" of the sakamai varieties, Yamadanishiki is particularly suitable for sake brewing because of its abundant starch center. Because of its plentiful starch content, Yamadanishiki may be milled down to as much as 35% and still yield an excellent kernel for brewing.
Gohyakumangoku: Developed in Niigata Prefecture in 1956, this rice is now produced throughout the northeastern Hokuriku area along the Sea of Japan. Resilient to cold, this sakamai may be produced in areas not traditionally suitable for rice production. Because of the kernel's small size, this rice may be milled only to 50%, however, because of its fruity aroma, this sakamai is highly prized for making ginjo and daiginjo sakes.
Miyamanishiki: Developed in Nagano Prefecture, one of Japan's leading regions for producing top quality table rice and other agricultural products.
Hanafubuki: Developed in the northernmost part of Tohoku in Akita Prefecture, this rice exhibits all of the best characteristics of sakamai.