New Corporate Logo
The sake barrel taru shaped logo was adopted in 2009. The design represents the lush mountainous scenery as well as the cultural significance of Tochigi Prefecture. The torii gate represents the "H" in Hokkan as well as the image of Tochigi as the gateway to the northern Kanto area. The river represents the "S" in Sake as well as the natural abundance of Tochigi's water resources. The corporate color was chosen to express the distinctive malachite and lapis lazuli colored paints used in the ornamentation of the Toshogu Shrine in Nikko.
Traditional Corporate Logo
The kanji Hokkan logo was adopted at the incorporation of Hokkan Sake Brewing Company in 1973. Hokkan, which literally means "northern gate," was chosen for the company name to represent Tochigi's important position as the opening to northern Kanto.
Corporate Character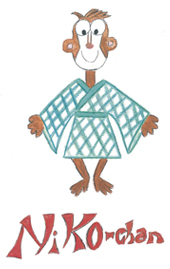 Niko-chan is a Japanese monkey
(Macaca fuscata)
inspired by the "See no Evil, Hear no Evil, Speak no Evil" monkey relief at the Toshogu Shrine in Nikko. Like the Japanese monkey, Niko-chan is intelligent, fun-loving and adventurous.